Photo DVD Slideshow-Create amazing DVD slideshow and dvd photo slideshow easily!
Introduction of Photo DVD Slideshow
Photo DVD Slideshow is a a combination of photo to Blu-ray maker, photo to DVD maker and photo to movie maker. As a photo to Blu-ray maker, Photo DVD Slideshow can burn photos into AVCHD DVD as well as Blu-ray movie for watching on Blu-ray player. As a photo to DVD maker, Photo DVD Slideshow can create slideshow DVD movies with transition effects, background music, subtitles and DVD menus. As a photo to movie maker, Photo DVD Slideshow can produce commom video formats like AVI, FLV, MPEG-2 for PC as well as MPEG-4 movies playable on iPad, iPhone, Android phones and tablets.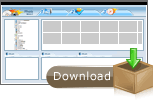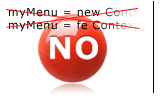 1. No Experience Necessary
Photo DVD Slideshow is simply the easiest-to-use slideshow software. It is designed to be easy enough for anyone in the family to use. You can create dynamic slideshows in just three steps : Add your photos, design your movie menu, and burn your disc. You will find that you can perform all tasks in the most natural and intuitive way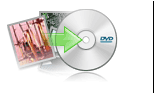 2. All-in-One Photo DVD Maker
With Photo DVD Slideshow, you are not only allowed to create photo dvd movie playable on home TV and DVD player, but also to burn photos into photo slideshow suitable for portable digital devices like PSP, iPod, Archos etc and mobile phone, and create Youtube and Myspace photo movie and flv videos for distribution on Internet.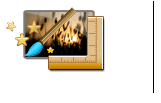 3. Powerful preset photo editing and enhancement tools.
Photo DVD Slideshow provides you with many built-in small photo editing tools. With these tools, you can select transition effect, album theme for photo slideshow, add text, clip arts and subtitle to your photo slideshow, apply pan/zoom effect and adjust photo effects by setting brightness, contrast and gamma.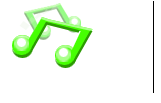 4. Support add background music to photo slideshow
Photo DVD Slideshow supports adding background music to your photo slideshow to better match and decorate photo slideshow. Inside this software, you are able to directly add WMA, MP3, WAV music to photo slideshow or accomplish that by extracting audio track from cd discs and recording your own music by Microphone.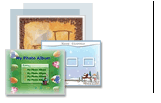 5. Professional DVD Menu Templates
Photo DVD Slideshow provides you with many DVD menu templates. In the meanwhile, this software allows users to customize their own DVD menu on basis of the existing DVD menus.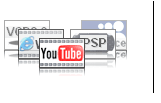 6.Provide many options to customize output format
Photo DVD Slideshow supports all popular output formats such as VCD, DVD, AVCHD DVD, Blu-ray, MPEG-4, FLV, AVI, etc. Besides, when you determine in which format you want your photo slideshow to be output, you are able to further set output parameters such as record speed, video codec, video bitrate, video frame rate, audio bitrate, sample rate and so on.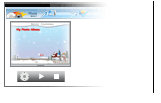 7. What You Watch Is What You Get
You can preview your slide shows before burning them onto CD-R or CD-RW disc. Photo DVD Slideshow simulates your TV and the DVD or VCD player with remote control. And, the internal mini-player enables you to enjoy your desired songs before putting them into your photo slide show.